Here's a quick run-down of the gear I currently use.
Bike: 2007 BMW F650 GS
My first big bike, treat it's probably considered small by today's standards. It's very versatile and fits me like a glove (I'm only 5′ 5″). Quality is top-notch! Right now the bike is completely stock, but it's got the accessory power outlet, center stand, ABS, heated grips, and 3-position adjustable clutch lever. The rear suspension is also adjustable (about an inch) and I've got it set at the normal setting.
Helmet: HJC CL-MAX
This is my current helmet. I like the color (it matches my bike!) and the modular design is convenient. It also uses the same face-shields as my CL-14 which meant I didn't have to buy another dark smoke shield.
Helmet: HJC CL-14 (Old)
This was my first full-face helmet I ever owned. It's a pretty good helmet with vents up top, vents for the cheeks, and one right in the middle that directs air onto the inside of the shield to keep it from fogging up. It's also DOT and SNELL approved.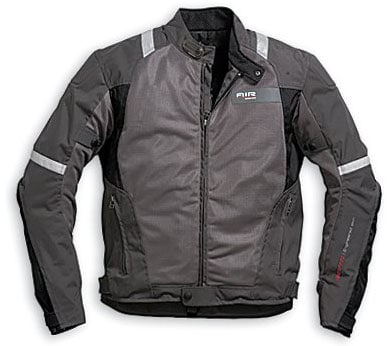 Jacket: Rev'it! Air
I bought this nice summer jacket and absolutely love it! It fits so nicely, and lets a lot of air flow through. I like it so much, I even wear it down to around 60 degrees, and put a windbreaker layer below. I like that the collar snaps closed, and there is a zipper on the inside back which mates with the zipper on my Rev'it pants.
Jacket: FirstGear Rush Tex
I like the 3/4 length jackets, but figured that here in sunny Texas, a regular length jacket might be better. I chose this one in the tan color. I thought white was too much, and I was planning on getting black pants so I didn't want a black jacket as well. The jacket is comfortable, has armor in the elbows and shoulders, and a pad for the back. There are two zippered pockets on the outside and a zippered map pocket on the inside, as well as cellphone pocket and wallet pocket. There are also vents in the wrists, chest, and back and reflective strips front and back. It has decent wind protection, so if I wear a couple warm layers underneath, I can be comfortable in the winter months.
Pants: Rev'it! Zip
These come in an short length size which fit me pretty good. I like the plain look but there's also some reflective striping on the sides which looks nice. Just a couple of tiny pockets, but some armor in the knees and zippered towards the boots for easy fitting. There isn't any ventilation on these pants, so you'll need to wear some kind of leggings under it or your legs will be sticking to them. I have some thin synthetic longjohns (Reebok running leggings) that work great.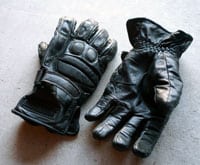 Gloves: MotoBoss leather
I bought some basic leather gloves for about $20 for my MSF training course and haven't upgraded them yet. They are comfy, but not much protection. It's my understanding that MotoBoss is the CycleGear house brand.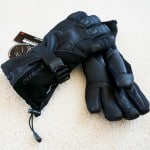 Gloves: Olympia Voyager
I finally found a pair of winter gloves that are pretty warm and at a decent price. The gauntlet is medium-length and tucks under the sleeve. It has enough room inside that I can wear a pair of liners in case I need the extra warmth. Goodbye, frozen fingers!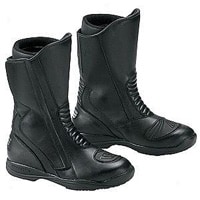 Boots: Gaerne Panorama
These boots seem pretty sturdy and will protect my shins. They go up high, and so they are covered by the pants at all times. You could, however put the pants between the outer shell and inner shell if you like that kind of "boots over pants" look.